About Natural Designs, Raleigh Landscaping Contractor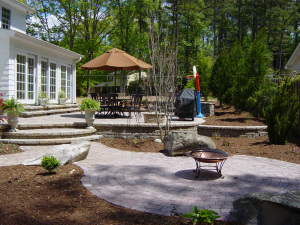 Natural Designs is a Raleigh landscaping contractor providing landscape design, installation and more. We work with homeowners in Raleigh, Durham, Chapel Hill and the surrounding areas to create beautiful and sustainable outdoor spaces. From patios and retaining walls to outdoor lights and water gardens, we use a variety of outdoor features to create a landscape design you'll love.
Michael Kopcienski, Natural Designs' owner and designer, is a registered landscape contractor. For more than 20 years he's been providing homeowners across the Triangle with charming yards and outdoor spaces through his full-service Raleigh landscape design company.
Our Landscaping & Landscape Design Methods
In North Carolina, we experience temperate seasons that make it easy to adorn our yards with a variety of trees, shrubs, annuals and perennials. At Natural Designs, we take full advantage of this when designing outdoor spaces in Raleigh and beyond. Our owner and designer prides himself on approaching the art of landscape design with imagination and creativity, ultimately creating a design that provides color, fragrance and texture to yards, year-round.
In addition to landscaping and landscape design, we offer a variety of other hardscaping and outdoor services for homes in Raleigh:
To learn more about our full-service landscaping company, contact us today.
Natural Designs offers landscape design and other landscaping services to homeowners in Cary, Chapel Hill, Durham, Raleigh and Wake Forest.