We created this backyard oasis in collaboration with an electrician, a fencing contractor and a pool contractor. After moving in to what they hope will be their forever home, these homeowners asked us to completely transform their blank slate of a back yard. Now, their tranquil retreat includes a patio with a knee wall, a cascading water feature, a swimming pool, a fire pit, night lighting and many various plantings. We also installed significant drainage work that can't be seen.
If you or anyone you know is interested in transforming their backyard into an oasis, contact us today for a free consultation.
Chapel Hill Stone Walkway and Columns

February 28, 2017
We just completed a project in a Chapel Hill front yard where we created a stone walkway and added columns to a garden wall. Before, the entrance was a standard sidewalk leading both to the home and an enclosed garden. The garden was surrounded by a brick wall with a large white gate serving as the garden's entrance. The original design had a functional blue print, however, it lacked character and elegance. This client wanted a customized style with more polish than the previous one.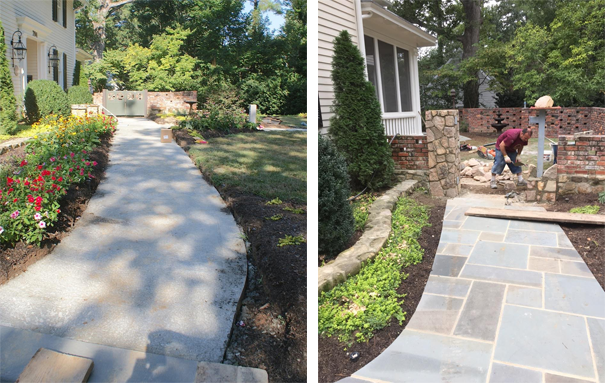 (more…)